Instead of doing separate posts on each figure, I've collected some recent body mods into a single post. With the articulation mods on Marabou especially, I feel like my skills have reached a new level of sophistication — even though the results don't look very sophisticated. :p
Janet, one of my favorite LHFers, recently got a body, after sitting around in storage as a head! I seem to have a plethora of AA Hasbro GI Janes, so I popped the helo pilot's head off and painted her neck with red undertones to match Janet's head, which is an Integrity Toys Janay head [back from when they had a playline].
Then, 'cause Janet has always been a short character, I took chunks out of the thighs and the ankles to shorten her legs. Cut-down pins and Aves Apoxie Sculpt hold her reduced legs together. I wasn't planning to do so, but I was able to salvage the swivels at both knees and ankles, so I haven't compromised her articulation at all.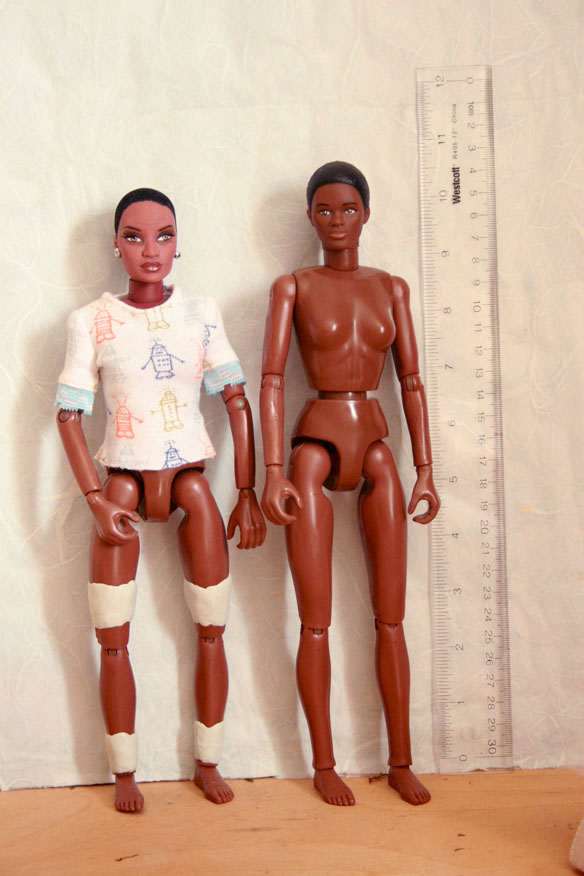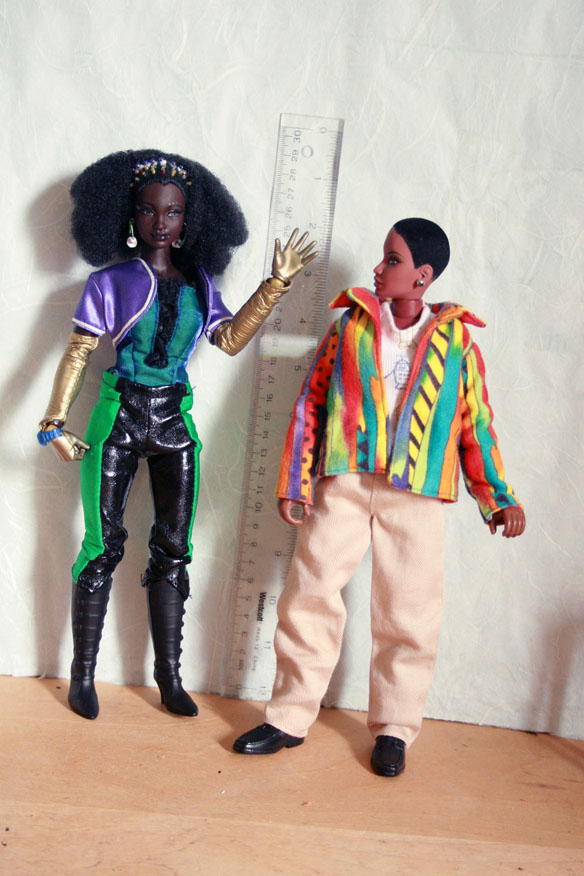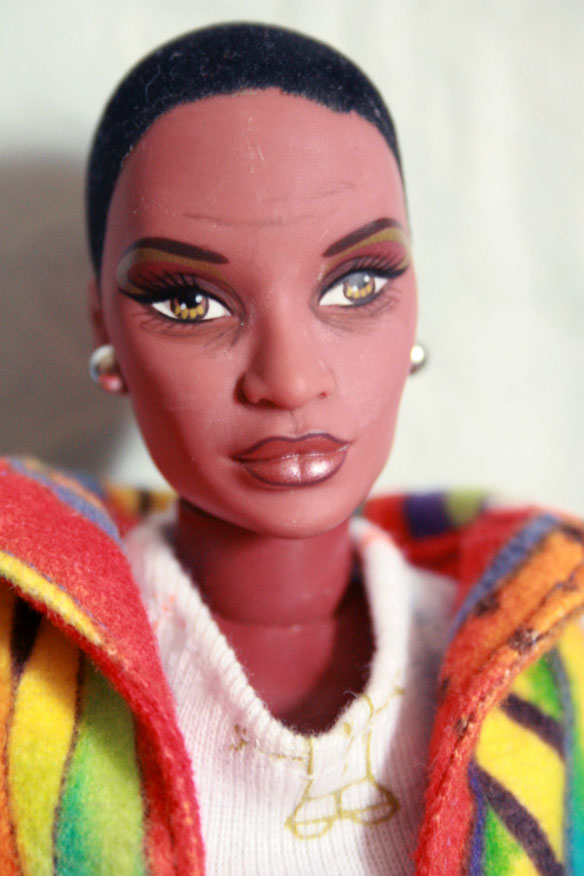 Another recent recipient of plastic surgery, Pearlene used to be a cut-down Mattel Flavas P. Bo head on a bulked-up 8″ Little Heroes body, looking something like this:
I ditched the first iteration's head and neck, grafting on a neck from a Herobuilders female figure instead. While I was modifying her upper torso, I also added more Aves Apoxie Sculpt to smooth the transition between bust and neck. One of my Mattel Jazzie heads matched the new neck pretty well, so I went with that for Pearlene's new headsculpt.
For my most recent project, I drastically made over Marabou. She began life as an oddly proportioned Playmates Uhura doll. Because of her height [12″ including hair], her broad, sloping shoulders, and her long legs, she appeared as a drag queen in LHF. I brightened up her faceup, repainted her hair pink, and took out her original hands with swivel wrists for some hands with wrist balls. But, other than that, I didn't do too much with her. Though I've always loved her strongly featured headsculpt and her amazing hairdo, her pathetic articulation long kept me from playing with her.
I've periodically considered moving Marabou's head to another body, but that always seemed more work than it was worth. Besides, Marabou's body was perfectly fine, just lacking in articulation. And I certainly didn't want to give up one of my few doll bodies of color. Thus a few weeks ago I decided that the best compromise would be to improve her existing body. I wouldn't be reducing my dolls of color — in fact, I'd be gaining one and adding to my diversity of body shape, skintone, and headsculpt!