Lyrajean and I started bright and early for Lowell, MA, yesterday, leaving my house at 7:00 AM for the long-awaited NERDS Show. I brought Yamarrah, not for sale, but to attract attention to the various clothes and small resin items I was selling.  Lyrajean hauled along a few display peoples, but mostly a yard sale's worth of furniture in various scales, as well as clothes she had made.
We traveled without incident until we approached Lowell. The city, which started off as a mill town, features densely packed, narrow streets, the lay-out complicated by canals and the Merrimack River. This lay-out probably worked fine before cars, but it's a clusterfuck for automotive traffic. Because it's so hemmed in by water, Lowell cannot easily expand its streets for the usual complement of cars + bikes + pedestrians, so it accommodates all modern-day travel by creating a labyrinth of one-way streets. Somehow this gets people where they're supposed to go, but in a manner that is neither logical, nor expected, nor easily discernible by the casual visitor. Let's just say we had some difficulty getting around in Lowell. Fortunately we had budgeted time for getting lost, so we arrived at the Western Ave. Studios before the show began.
But we made it! Western Ave. Studios, a previously light industrial space converted into a warren of artists' studios, reminds me favorably of artists' studios in the South End. The NERDS Show set up in the Onyx Room. Painted black, windowless except for a skylight, and strung with disco balls and paper lanterns, the Onyx Room looked like a great place for a dance party or theater in the round. Round display tables, where people could show off their dolls, were distributed in the entry way, while about ten rectangular vendor tables, including ours, lined the inside perimeter. Some clusters of upholstered chairs in the center provided a space for mini meetups. Right by the off-street parking, the bathrooms, and all the studios participating in the Western Ave. Studios' open studios event that day, the Onyx Room was optimally situated to attract not just doll enthusiasts, but also people who came for the open studios. In short, the Onyx Room proved the best possible place to have the show, with the sole reservation being that the lack of natural light made photos a challenge.
Lyrajean and I set up our wares all over our table. Good thing I had much less stuff than she, as her stuff was literally stacked in layers. As I have never staffed a vendor table, I did not know what to bring beyond my goods, my tablet computer [in case people wanted to use Paypal], cash, and my camera + memory card, of course. Thus I tossed in paper, pens, plastic bags, tent cards, an extension cord, water bottle, snacks, painkillers [as I fell on the ice last week and banged an unpadded part of my ass], even my cell phone [which usually never leaves my house]. That seemed to be a comprehensive array of supplies, although, in future, I will also bring hand cream and a snot rag. I will also eat a substantial lunch [not a bag of Deep River rosemary and olive oil chips, however delicious they may be] before the event starts.
I set up Yamarrah on Jareth's "crotch stand" [i.e., a stand of adjustable height with a U-shaped clip that a doll can situate their crotch in] with one her favorite creemees to attract attention. As Lyrajean observed, she did a very good job of it. Her bright and unusual styling caught the eye of passersby, as did the fact that she was standing up in a naturalistic position. Anyway, I have decided to acquire more "crotch stands" for my 1:3 scale BJDs. They've been sitting around [literally] for years and years, as I've always been worried that standing them without support would lead to shelf dives, but they just look so much cooler when upright occasionally!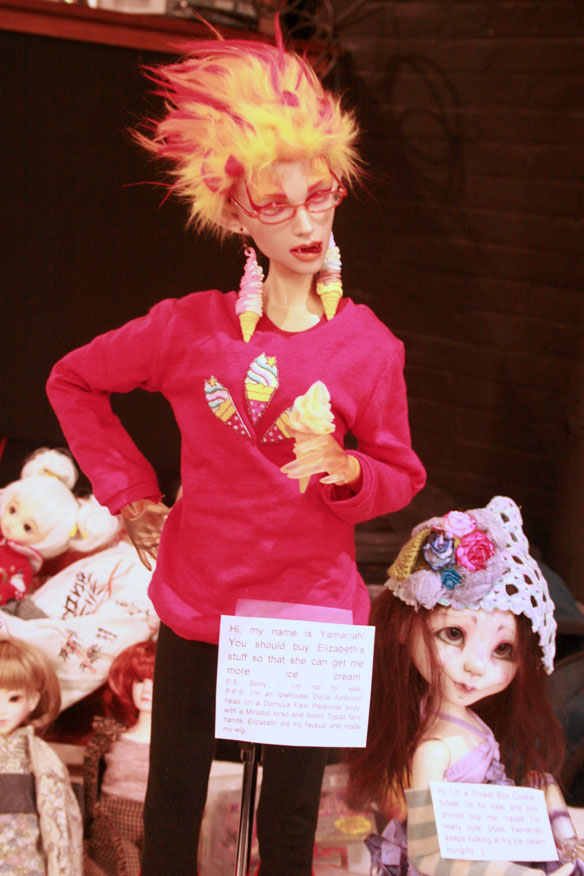 After setting up, I ventured out with my camera to take pictures of dolls and interrogate owners about the makers and sculpt names. I had an easy time at other vendor tables, where owners were sitting right there to answer questions about their dolls. Unfortunately, only two groups with display tables provided labels for the dolls identifying owners, makers, and sculpt names. I waylaid some people with display tables to get info about their dolls, but I couldn't determine owners for most of the tables. There's pretty much nothing worse at a doll show than having pictures of fascinating dolls, but no further information about them, not even a way to credit or follow up with the owners. Thus I completely avoided any unlabeled tables. I also didn't photo every single doll that I was able to identify. As a result, I only have a small selection of photos from the show, focusing on those dolls that interested me.
First up, dolls from Maine, owned by Maverick and Madison.