Mocked up my idea for Fritillaria just now. I left out eyes because I'm not sure what to do for them, but I purposely left off eyebrows, which I'm not seeing a need for. Black lines down from the corners of the mouth indicate where her jaw joint would be, assuming I decide to have it cut, rather than painted. That black thing on her head is a skull cap, as I am not a noted fan of wigs on my BJDs.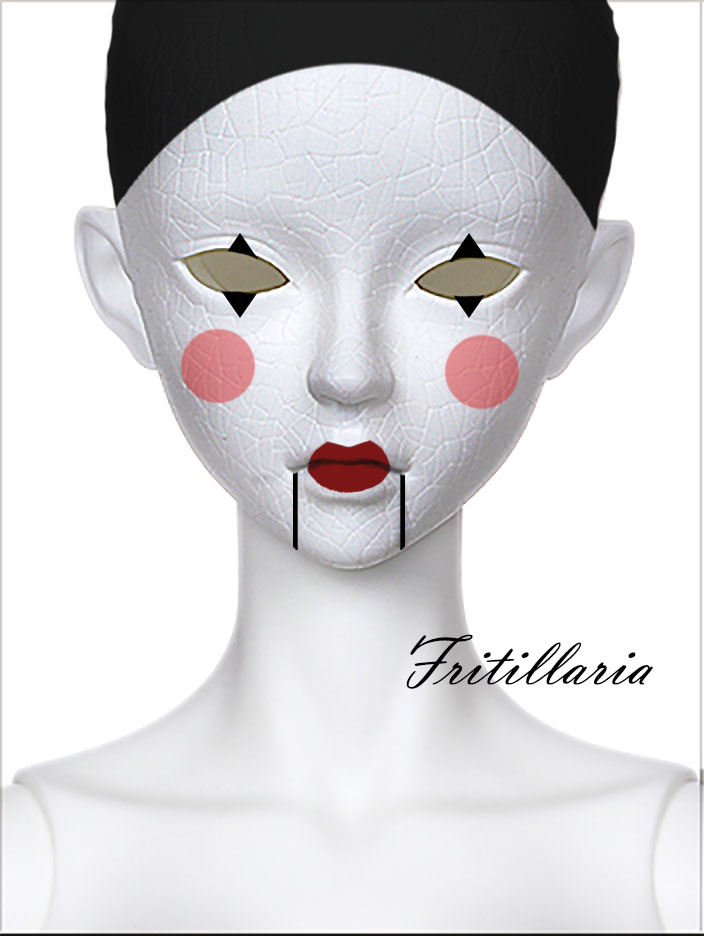 I could even make her outfit myself. When I was looking through old VTDL meetup photos, I came across Lyrajean's Volks F36 in a loose blouse with neck ruff: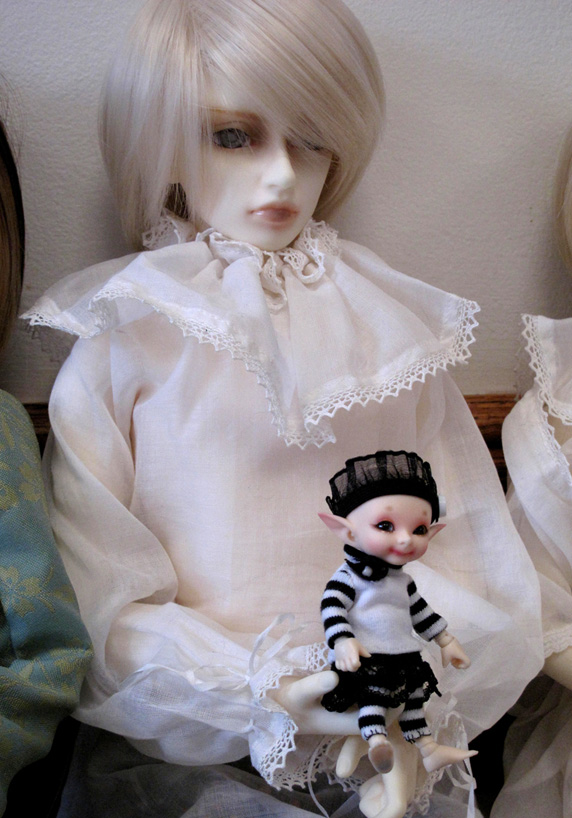 I E-mailed her asking if she had a pattern. She wrote back that she didn't, but that a shirt in this style was easy enough to make:
…That shirt is very simple — it's a T-shape folded over, made a little extra large. Measure from the base of the doll's neck to the wrist, add something for a hem on the cuffs and a ruffle to get the top of the T measurement. The length of the T is obviously how long you want it on your doll. Make sure to cut the neck hole large enough to get over their bean. You either make a casing for elastic or hem and do a drawn thread/ribbon to pull the neck in.

The ruff is actually completely separate. It's just a 2″ wide piece of fabric for SD size, about a foot or so long, hemmed and trim sewn on. It's gathered with 2 rows of parallel ribbons these can be pulled and tied closed, or I added a rhinestone button and loop close.
I can do that! In fact, such a shirt — not necessarily Fritllaria's, but a shirt in that style — would be a good initial project for my new sewing machine, as it's mostly just straight hems, as opposed to all the fiddly curved seams in the shirts I've been making for Isabel.
I wonder if old handkerchiefs would provide enough material for a 1:3 shirt. I bet they would be great for 1:6 scale shirts!