Lyrajean, Bittersweet Blue, and I drove up to the Palais de Congres in Montreal, Quebec, Canada, for Otakuthon, 08/04/2017-08/06/2017. Well, we mostly attended for the small amount of BJD programming, otherwise known as Dollathon.
Drive up to Canadaland on 08/04/2017 took a very short time, 45 minutes at the border excepted. Driving in Montreal proved more confusing than it should have, as they're constructing a new huge bridge across the St. Lawrence River and also modifying all sorts of streets, so the directions provided online are shit.
Because we heard about Otakuthon so late, we made do with horrible lodgings in the UQAM West dorms, which are rented as hotel rooms during the summer. These ridiculously small rooms featured as much space as a large closet, but with a window that only opened about three inches, allowing none of Friday and Saturday morning's nasty humidity to escape. Two people were expected to sleep on a twin bed with a small width extension of half a foot. HAHAHAHAAHAHHAHAH. No. Lyrajean and I paid $46.00 CDN for the addition of another mattress, and I took the bed, while she slept on the floor, half under the desk. These meager rooms somehow contained microkitchenettes [two burners, cube fridge, sinkette] and three quarters bathrooms with shower stalls so small that you turned off the water with your elbows if you tried to move your arms. To top everything off, we were a few blocks from the con site, and we ended up spending for taxis that we hadn't expected. We just made lots of jokes about how much we were melting and banging our heads in small spaces; then we decided to book actual hotel rooms with actual air conditioning and a location much closer to the Palais next year.
After dumping some stuff at our "auberge," we ventured forth to the Palais to pick up con badges and check out the dealer room. We each hauled along a BJD or two, just in case we saw other fellow doll nerds, but we met no other enthusiasts. We just got hand cramps from carrying around small populations.
While waiting in line to get our badges, we people-watched, seeing more people in the space of a few hours than I typically see in probably six months, at least half of which were in costume. Cosplays included simple wigs, jackets, or hats indicating an iconic character, soft one-piece pajamas in the design of a certain character, elaborate screen-accurate get-ups including huge foam and balsa replicas of ridiculously oversize weapons, and professional-level suits of armor with weapons so convincing that there was a weapons check specifically for them. I recognized probably about 5 of the many characters represented, but I sure enjoyed watching everyone dress up. No matter their age, gender, body shape, or resemblance to the character they portrayed, they decked themselves out for the sheer joy of play and showing off. It was like a three-day Halloween!
Our thorough circuit of the dealer room revealed a plethora of the following:
Figures of anime characters that, in my mind, did not justify their exorbitant price because they weren't articulated
Nauseatingly cute and squishy stuffed animals, mostly in the form of fat cats [awwww!!!!]
Mouse pads with wrist rests made out of the squishy boobs of anime characters
Portraits, stickers, and buttons made by amateur artists in the artists' alley
The garage sale yielded some interesting finds, but we were rather disappointed that there were next to no Rements, gachapon, or other things in any scale that could be used for dolls. Oh well, there were plenty of cat things to admire.
After that we discovered the joys of Montreal's Chinatown, hard by the Palais. Much smaller than even Boston's Chinatown, it has 3 gates and the usual squished-together shops where you can buy stuff pretty cheaply. Since we were hungry, we hit the Palais de Jade Buffet, a few levels of quality above your standard Chinese buffet. We filled our faces. :d
The next day, we escaped our abysmal accommodations as early as possible on 08/05/2017, scooting over to the Palais de Congres. We arrived about 8:00 AM and had breakfast.
We attended a bilingual BJD 101 panel, run by Laura and Carolynn. Of course we knew everything that they were talking about. However, we rejoiced to see our first complement of doll lovers and geek out together with them.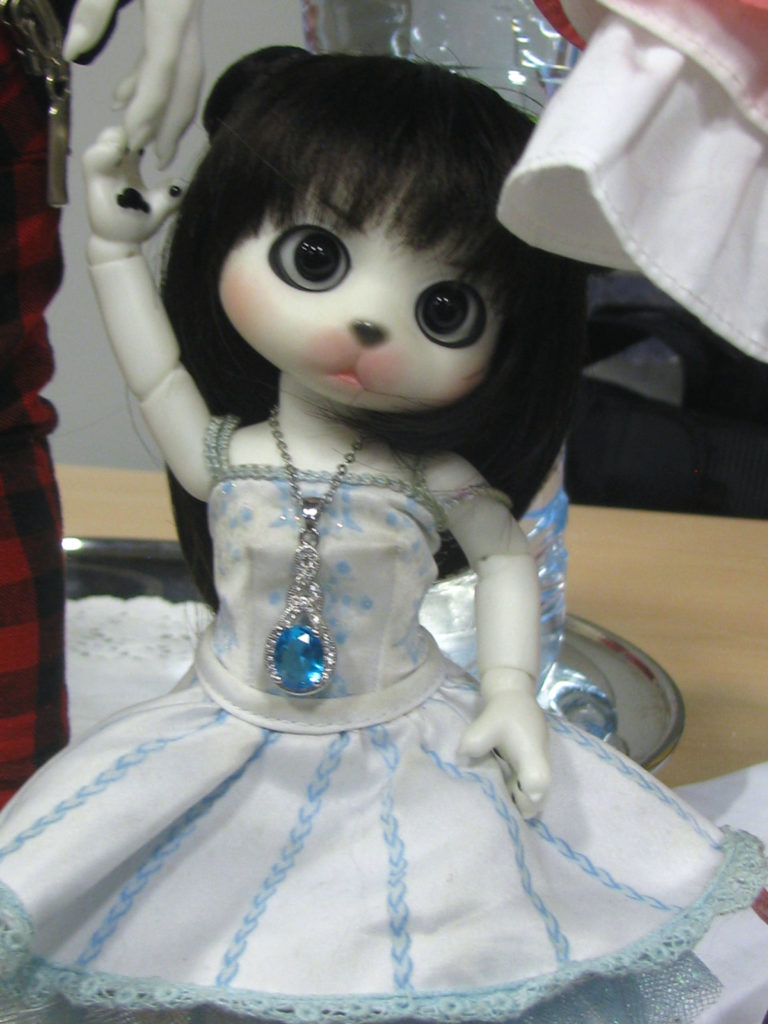 At the BJD marketplace following the 101 panel, I regretted not bringing stuff to sell or swap. I did, however, bring money, so I got some 1:3 scale food: a 1:3 scale Coke can and a 1:3 scale creemee. Also got pictures of more cute dolls!!!
In the dealer room, I picked up a bento box to transport my 4 14cm Elfdoll tinies. Just to be thoroughly meta, I chose the one with the matryoshka design. $25.00 CDN from Joli Bento. [Pictures on white background taken at home after the fact.]
Bittersweet Blue got a bento box of her own for $35 CDN from Joli Bento. It's the perfect size for holding dolls like her 11cm Obitsu! [Pictures taken after the fact.]
We went for dinner Saturday night at Kagayaki Shabu Shabu, which is basically a place where you get a pile of raw meat and veggies, along with an individual pot of boiling water, and you cook your own soup. It is delicious; I especially like the mushrooms, seaweed, and fish balls. We also greatly enjoyed Calpis soda in black currant flavor. Oh yeah and the black sesame mochi — more sweet than savory. We are definitely going back there next year!
The last day, 08/06/2017, there was a wig making tutorial where we all actually learned something. I absorbed the presenters' [Laura and Carolynn] enthusiasm for brushed yarn wigs, which I would now like to make for Honorine. Following that, we had a meetup. More doll photos ensued.
Next time I will bring more cash, along with things to sell or swap. I'll also bring more dolls, but smaller, like from House Rainbow Barf and/or my fairies who bug me.