Since Chapter 7 [and some of Chapter 8] of Zombieville centers on Isabel's visit to Doctor Z, I decided a long time ago that I needed to make an exam room set. I started sometime last year with research. I had the opportunity to sit around in an actual exam room for about 45 minutes, waiting for a doctor, so I took the time to observe the layout and contents of the room. I sketched a diagram, which I then transferred into Photoshop.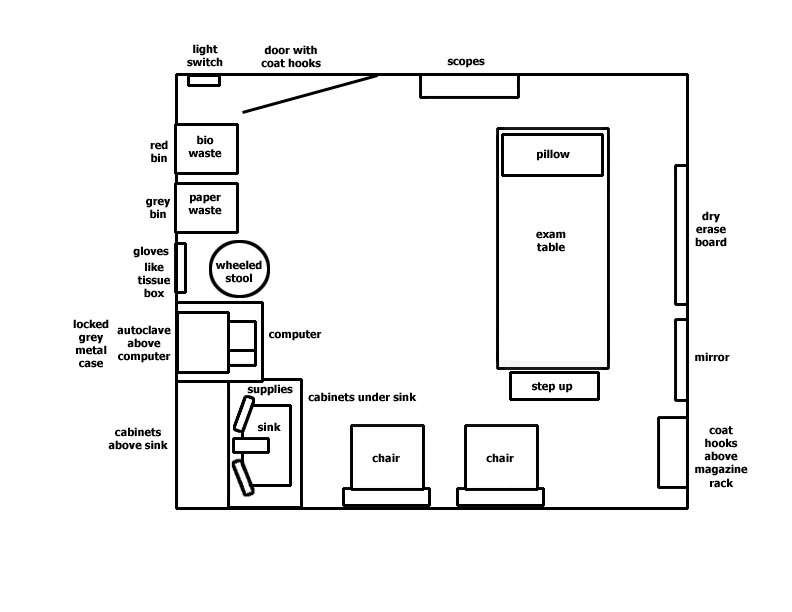 I then considered my findings, my available set pieces, and the actual events I wanted to occur in the exam room in order to figure out what to make. My findings [i.e., my diagram] informed me that there was a lot of stuff in a typical U.S. doctor's exam room, but I wondered if I really needed every single piece.
Of course I didn't! All Isabel will be doing in the office is talking to either the doctor's assistant or the doctor. No physical exam or special equipment needed, which means that I could dispense with the right half of the room. In fact, with the focus of Chapter 7 [and some of 8] on a conversation between Isabel and one other person, I realized that I really only needed the lower left corner of the exam room, from the wheeled stool down to the sink and over to a single visitor's chair. If I constructed it right, this small area would imply an entire exam room, and I wouldn't need any biological waste bins, autoclaves, scopes or exam tables.
Below is the doctor's wall of the exam room, with details on construction. [I'm not showing Isabel's chair, the bulletin board above it, and the art nearby — maybe in another post.]